I'm not kidding when I say this DIY Coin-Can Toy is AMAZING.  It's one of the weirdest ideas I came up with for parental survival when my kids were small (even before Pinterest–gasp!).  It'smade from a frosting container and canning lids.  SO EASY yet it occupies a busy toddler just long enough for you to finish brushing your teeth (or so you can actually go to the restroom).  It's a simple DIY Toddler Toy Frosting Can Reuse that you can make in just a few minutes.
My first child (Sweet Tween) was into everything.  If it was put away, she pulled it out.  If it was supposed to be out, she put it away.  So one day I came up with this DIY toddler toy to keep her busy for 5 minutes.  We even used it as a quiet toy at church.  All three of my kidlets had one when they were toddlers and LOVED it.  It's great for doctor offices, airplane trips, restaurants, or just a boring afternoon.
Here's a little video of how this awesome, easy DIY toy works: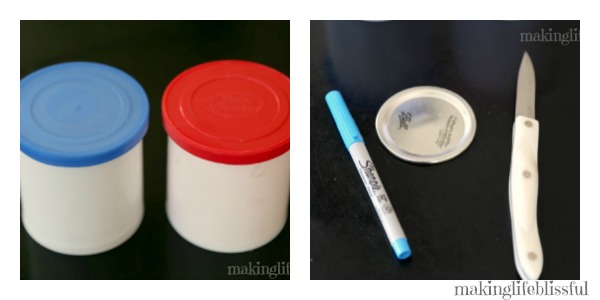 This is all you need to make it:  Frosting can and canning lids, a knife, and a permanent marker.  You can also use frozen concentrated juice tops, or other containers (sour cream, yogurt, etc).  The frosting can works well because it has a strong lid and you can take the label off.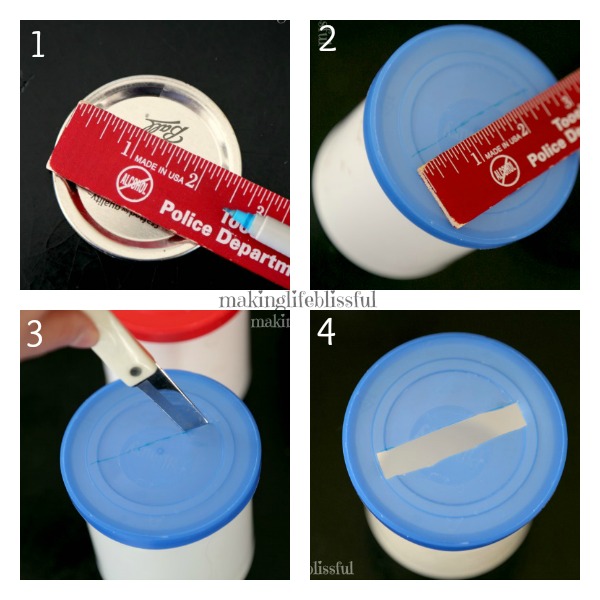 Cut a slit with a knife or scissors that is almost exactly the width of the canning lids.   Measure it.  Mark it.  Then carefully cut the slit.  It doesn't have to look perfect, but it's nice if it's just snug enough that they have to give a tiny push to get the coin in.
 Add stickers to decorate the "coins".  Use whatever you have or customize it to what your kidlet is into at the time.  Perfect size for little hands.  You can also use metal juice can lids from the frozen juice concentrate.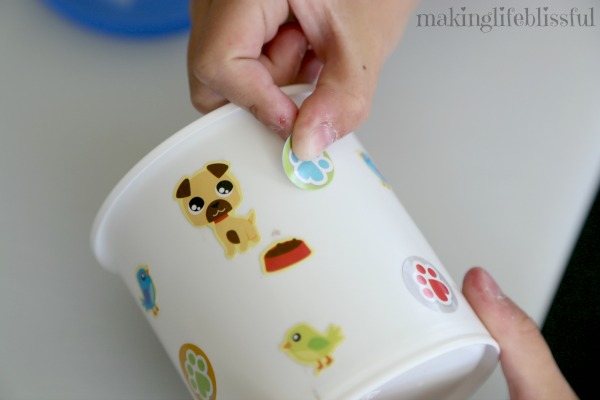 Don't forget to decorate the can too.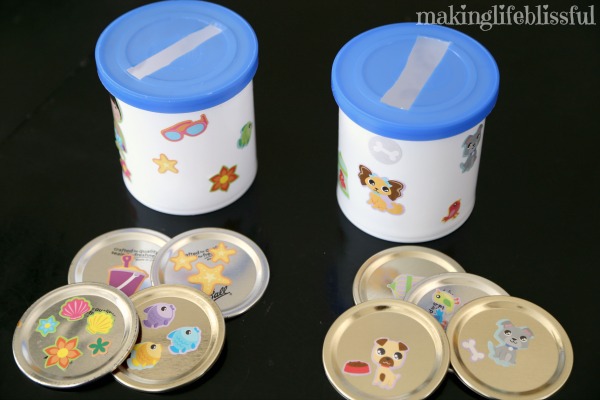 And that's it.  Done.  Let them put the coins in over and over, one by one.  Remove the lid to get them out and start over.
5 minutes of peace is yours!