I've said it before . . . blogging is weird. It's weird because you can be creative, run a small business, make new friends, write what you feel or know, step outside your comfort zone, and (hopefully) change the world one blog post at time–all while sitting in your pajamas in front of your computer.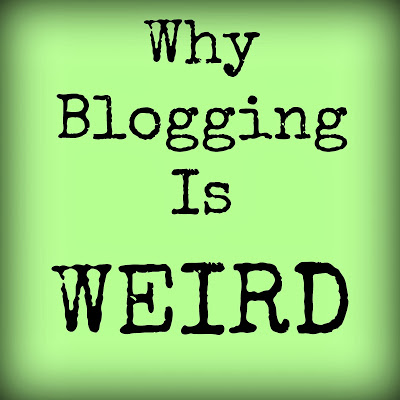 It's also weird because you have to display a part of yourself and leave it out there at the mercy of others. It's left to their criticism and scrutiny. For a private person like me, it's sometimes hard to do. I think blogging is unlike any other hobby or job.
It's weird because it can be soooo time-consuming. You wouldn't think it just looking at someone's blog, but it truly takes time. The to-do list is never done. There's always something to fix or do better. You gotta connect with readers, answer emails, network, read other blogs, take pictures, and actually find time to write your posts. And if you're like me, you gotta learn all the computer stuff that goes with it. Since I do all of this on my own, it's been a learning curve for me. I learn as fast as I can read it and figure it out on my own. There's always something new to learn. Plug-ins, html code, the quirks of each social network, Photoshop, and blogger lingo. (I had to learn that a "Link Party" was not just a get-together for Zelda fans).
But that is one reason I like it–because I am always learning something new. My brain is constantly thinking when I am in "blog mode" and I like the challenge.
I also love it because I've always had a little part of me that wanted to write and have a voice–no matter how small. I know that most of the world doesn't care what I have to say. I know that my blog isn't the best one on the block . . . but I sure do try. Why do I keep doing it? Why do I put all the time in, even though my followers are few? Because I see blogging as a chance to share. Blogs are places where we can share experiences, tips, ideas, funnies, product info, and a little bit of who we are with people ALL OVER THE WORLD. I hope people don't see it as "showing off." It's a way to help each other. I believe the internet is a blessing and the means of sharing goodness across the globe. Of course, there's always the negative side of the internet, but I believe good blogs and good people can overpower the negative–or at least balance it out.
So yeah, blogging is weird. And maybe I'm weird because I'm a blogger. But no matter what I am always thankful for my readers out there and for the many things I have learned from you.
Anyway, so there ya go. Another random blog post, just for the weirdness of it.
Tell me what YOU think . . . leave a comment. Do you think blogging is weird?
Lisa