Time to talk about Halloween Safety. I've got info for you about an AWESOME and FREE safety app called REACT Mobile. You are gonna want to try this out . . .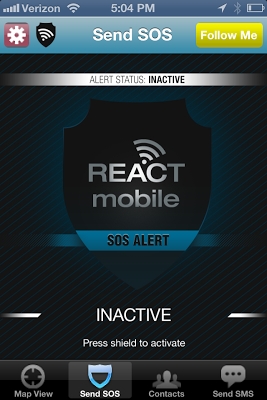 The REACT Mobile app turns your smartphone into a powerful safety tool. You can turn the app on and using the GPS signal, it "follows you" and maps the route you have taken so that if something happened to you, your people would know where you were last. It also has an emergency alert button to alert your specific contacts AND 911 if you are in great danger.
How It Works:
You open the app and you'll see the screen above. It has the SOS Alert on the front page. This is where you can alert 911 and any contacts you've set up. THIS IS FOR AN EMERGENCY. Don't go pushing it unless you really need it. It alerts them even if they do not have the app. You can also have it alert social media as well.
This is what it looks like when it's activated.
For everyday safety use the Follow Me feature. To start the Follow Me feature, you tap the yellow button on the top right. It brings up this page: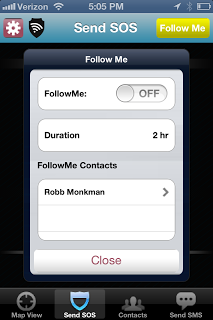 It shows which of your contacts (that you previously entered) you would like to be alerted to "follow" you. Turn the Follow Me feature to ON and then it sends a text to your contact that you are going somewhere and would like that person to keep track of you and your route. They will be able to follow you. When you arrive safely, there it s button to tell them you are SAFE. So cool.
One thing about using it is that you need to keep the app running while you are using the Follow Me feature. If you take a call or turn it off, it will stop temporarily, but it resumes when you open it back up.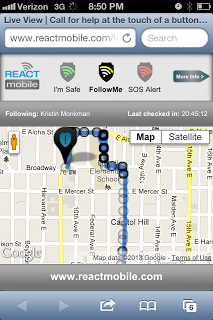 WHY I LIKE IT
The React Mobile company asked me to try this app out. I definitely wanted to because I have a tween and I know that someday she'll have a phone and I'll want to know where she is or make sure she gets places safely as she gains more independence. This is perfect to send with your teen who is out on Halloween night or just to take yourself.
I also like that I can use it for myself. When I have to drive to an unknown area by myself or if I am out jogging alone, this gives me one more safety tool. We tried it out and it worked. I alerted My Man when I went out to a bigger city and he followed my route to make sure I was okay. It's great for college students who have to walk around campus alone or someone who travels a lot.
I say, it's worth a try. It's FREE too. BE SAFE and Happy Halloween.
Here's MORE info from the developers:



Can you explain your inspiration for creating this app?
I've personally been the victim of a hostage situation while I was a college student and saw the need for a product that could be used to silently and discreetly alert the authorities and your trusted contacts if you are in trouble. When we first came up with the idea behind React Mobile, we wanted to develop a tool to improve safety on university campuses.
Since our launch we've found other markets beyond schools that can benefit from our app's capabilities, and we've been gaining traction with parents, solo runners, travelers and lone workers.
Is the Android version out yet? Windows?
Yes, we have released our app on several Android platforms and we are working to expand our list of supported Android smartphones. It's difficult to keep up with the many different Android phone models and operating systems but we work on most of the popular Android platforms.
We don't currently have a Window version of our app. As a Seattle based company we plan to develop a Window version of our app in the next year.
React differentiates itself in the following ways:
· "Follow-Me" Feature – React Mobile, is a safety tool that you hope you never have to use. We differentiate ourselves by providing users with a safety enhancement feature for everyday use. Our premium "Follow-me" feature allows users to have friends and family track them in real-time. When a user is concerned for their safety but doesn't want to escalate a potentially harmless situation, they can have their friends and family track them in real-time until they are safe. People frequently feel unsafe and uncomfortable but may not want to trigger an SOS alert. Examples include , a solo or late night runner (or runner in the woods), a realtor meeting a new client for the first time in an unfamiliar place, a student walking home along a dark pathway, an online dater who is meeting a date for the first time. These are just some examples of when people might want the peace of mind of knowing that their trusted, self-selected contacts are tracking them in real-time. If an emergency situation occurs a user can escalate to an SOS alert, however, if for some reason the user can't issue an alert (i.e. they are attacked), their friends will know where they are if they go missing thanks to the last known GPS and will be able to alert the police.
· International Support: Users also have the ability to choose which country they are visiting (or living in) from our settings tab and when they trigger an SOS alert they will be prompted to dial the appropriate emergency authority depending on where they are (ex: if they are in the UK the app will prompt a user to dial 112 not 911).
· Social Network Integration: SOS alerts can be posted to Facebook and Twitter – In the event of an emergency we want users to have the capability to alert as many people as possible. We are differentiating ourselves from the competition by offering users the option to post their emergency alerts to Facebook and Twitter with a link to their location.
· · React Mobile is Free – Unlike many of our competitors we are offering our product as a free app as we believe that it is a safety tool that everyone with a smartphone should have at their disposal. Unlike the competition, we impose no charge for the use of key features and we don't require a users' emergency contacts to have installed the app.
· Automatic 911 prompt – Because it is critical to alert the authorities when you are in trouble, our app automatically prompts users to dial 911 if an alert is activated.




Here's more of my SAFETY Posts:
KEEP KIDS ON THE SAFE SIDE
Securing Your Flat Screen TV
I was compensated for the time put into reviewing this app and writing about it. The opinion expressed is my own.