I just found out that I was nominated for the Liebster Award. I don't think I've received any kind of award since 2nd grade. It's blogging award given to you by another blogger that wants to acknowledge your blog and likes what you share. I was nominated by Nicole at Just Say Hi at http://www.justsayhi.org. Thank you Nicole!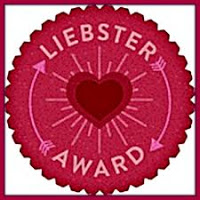 Here's what the nominated blogger does:
Share 11 random facts about yourself;
Answer 11 questions the nominating blogger has created for you;
List 11 bloggers who have less than 200 followers (as best as you can tell based on their page) They should be bloggers that you believe deserve some recognition and a little blogging love!
Post 11 questions for the bloggers that you nominated to answer; and Let all the bloggers know that they've been nominated. You cannot nominate the blogger that nominated you.



So now I get to give you 11 Random Facts about me:
1) I have freckles . . . lots of them.
2) I sing along with the radio in the car.
3) I run or walk practically everyday. It's better with a friend. I do it for health (and because I enjoy eating) but also because it makes me feel happy.
4) I'm allergic to shellfish (like Epi-Pen allergic), cats, and penicillin.
5) I'm Mormon.
6) I hate making my bed, but I love an organized dishwasher.
7) I LOVE life and believe each day is a gift.
8) I like people to be nice. I'm not always nice, but I try to be. So I hope other people try too.
9) I believe in laughter. Laughter soothes the soul.
10) I take a long time to make decisions.
11) I should have died 6 years ago. Read more
HERE
Now I'll answer Nicole's questions from Just Say Hi!:
1. What is your go-to meal when you don't feel like cooking that night? I make taco salad with black beans, baked chips, salsa, and salad fixins. We have it almost every week (cuz there's always a day I don't want to cook!)
2. All time favorite chick-flick? I love all the BBC-type stuff. Pride and Prejudice, Emma, Jane Eyre.
3. What is your guilty pleasure? I love the TV show The Middle on ABC
4. I Love Lucy or Gilligan's Island? I Love Lucy all the way.
5. Tea or Coffee? Neither. I've never had them. I'm Mormon, remember?
6. Why did you decide to get into blogging? I'm kinda shy and I wanted to have a "voice" and I hope to bring some good into the world.
7. What inspires you? Music and ordinary people who make the world a better place.
8. Have you ever kept your new years resolution? No. If I did, I'd be pretty amazing by now.
9. How do you break away from all the craziness in life? I try to turn off all news/media, devices, and just think quietly and relax. If that doesn't work I watch a good movie or read.
10. Where do you see your blog in the future? I see it as a place to help inspire and uplift women to find happiness in motherhood and a place to support each other.
11. Who took a cookie from the cookie jar?
Probably me. I adore homemade cookies.
And here's my 11 nominees. Check out their wonderful blogs if you can:
Marissa at http://lifeisfantasmic.blogspot.com/
Renee at http://www.nextgenerationsahm.blogspot.com/
Terra at http://lifeasafieldtrip.com/
Misty at http://denverista.com/category/strecthing-your-s-mile-high/
Jessica at http://www.motheringwithcreativity.com/
Michele at http://fiveinthefoothills.blogspot.com/
Bridgette at http://www.firstand5.com/
Cindy at http://www.superheroesandteacups.com/
Rachel at http://www.handsfreemama.com/
Erika at http://www.lovefromlv.com
Jenny at http://learningwithmissjenny.com/
And my 11 Questions for my Nominees are:


1) What is your dream vacation?
2) Do you believe in miracles and why or why not?
3) Cats or Dogs?
4) Why do you blog?
5) What's your favorite kind of social media–FB, Instagram, Twitter, Pinterest, etc?
6) Are you an outdoors person or a home-body?
7) Where do you hope to be in 10 years?
8) What's your favorite thing about your mom?
9) What is THE food you couldn't live without?
10) When is the last time you went on a date with your spouse or significant other?
11) What's your favorite way to spend time with your family?
THANKS for the nomination! Hope y'all have fun with this.