Wahoo! It's my blog's anniversary this month. My blogiversary, I guess. This blog is 1 year old. I'm excited that I have kept with this and have found that I love blogging.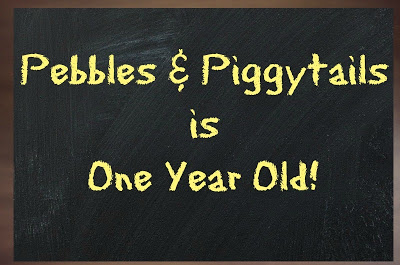 AND I must give a shout out to my good blogger friend Marissa at Life is Fantasmic. She has a wonderful blog with great thoughts, recipes, and ideas for kids. She loves Disney and her posts are full of positive energy and imagination. She's celebrating her 1 Year Blogiversary with an awesome giveaway!
Here's the story of how my blog began.
Last September I was talking to one of my best friends. We were discussing children and the craziness of motherhood. She said, "Lisa you should write a book." Ha. I totally laughed. Only really amazing people write books. But that got the wheels turning. I like writing. I like taking pictures. I like being a mom. I like children. I kept thinking about what she said. Then one day I thought, "Amazing people write books, but anyone can start a blog." So I started a blog.
You can read my first post called Us.
I started my blog and I didn't tell a single soul. I did NOT even tell My Man at first. I was so afraid of rejection. I was so afraid of sounding dumb or not having anything to say. So I posted a few things and let is sit out there on the world wide web. I waited to see what would happen.
I wanted my blog to be a positive and uplifting place. Being a mom is crazy-hard sometimes. It's easy to get down on ourselves. It's easy to forget the vision of motherhood and strength that we have as moms. I wanted my blog to help someone, even if it was just one person in a small corner of the world.
I also wanted it to help me.
By blogging, I knew I'd remember my own power to keep trying. And that I'm a good mom, even on my bad days. I knew I would find strength from my readers as well.
Little by little people have read my blog. And little by little I have told people about it. In January of 2013, I started blogging regularly. I now blog about every other day. Some posts are better than others. Some are thoughtful musings, some are funny, some are helpful, some are frustrating, some are inspiring, and some are boring.
I've had over 30,000 pageviews. I have almost 1,500 fans on Facebook. Over 300 followers on Pinterest. 31 followers on Bloglovin'. 20 Google Friend Connect followers. 4 followers on Instagram (heehee). And 0 followers on Twitter (haven't tried it yet).
So I really must THANK YOU, the reader, for making it such a joy to blog. Whether this blog is really changing the world or just making someone smile or feel inspired, I'll never truly know. But I do know that I appreciate each and every reader out there.


Thanks.