So my question to y'all is this: When is it too early to start using the anti-aging stuff? Do any of you already use it? I'm in my thirties. I like to think I'm still young. But am I in denial?
How cool is this? I received an awesome sample pack of Arbonne skin products in the mail. It's the RE9 Advanced Set. I've never used Arbonne before. In fact, I'm not really into face creams all together, except cleanser. Do any of you use Arbonne? What do you like about it? This pack came with tons of stuff (guess it takes a lot to keep us young):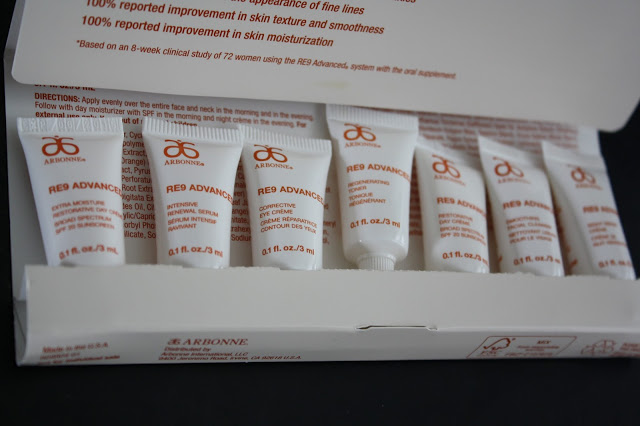 Extra Moisture Restorative Day Creme (hmmm, I do live in a dry climate)
Intensive Renewal Serum (firming cream, sounds good for more than my face)
Corrective Eye Creme (for the sleepless nights)
Regenerating Toner (too bad it doesn't tone my thighs too)
Restorative Day Creme (has spf 20, that's good cuz I'm fair-skinned)
Smoothing Facial Cleanser (smooth is good)
Night Repair Creme (works while I'm sleepin'–I like that)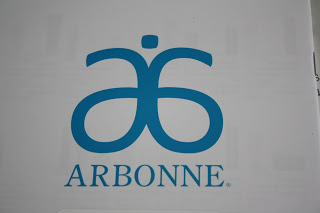 From the literature that came with the samples, it looks like it's pretty nice, natural stuff. They use a lot of natural botanicals. It's formulated without Parabens, Phthalates, Propylene Glycol, Mineral Oil, PABA, Paraffin, and more stuff I can't pronounce. So that must be good right?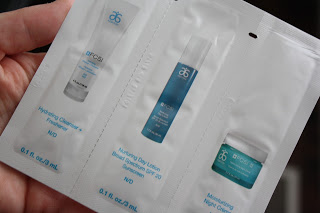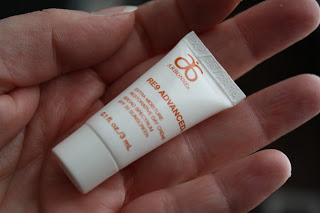 Well, here goes nothing . . . I'm going to try it out. Just because. In the meantime, give me your thoughts about anti-aging cremes . . . can we really reverse time?

I was compensated for talking about this product. This is not a personal review. I have not tried them yet. But I will be trying the samples
that were given to me.