(CHECK OUT MY APP GIVEAWAY below . . . plus a list of my favorite apps)
I got a few new apps lately for our iPhone and iPad. We were heading out on a road trip and I knew that they would come in handy for my kidlets as we were driving 12 HOURS one way. And then yes, 12 HOURS back . . .
So I like to freshen our game selection with a few new ones for when we've got restless kidlets fighting in the back and the coloring books just are cutting it anymore.
BUT how do you choose which apps to buy? There are thousands now. Here's what I look for when I buy apps (especially children's apps):
I like to get games that are cheap. No more than $2.99 if I can help it. This is because most app games lose there pizazz after awhile. And unlike books or toys you cannot resale them or pass them on to someone else. They just sit there dead on your computer account because everyone is sick of them or has grown out of them. So because of that, I want it to be free or cheap because it adds up fast.
I like games that have educational value. I search for games that have some kind of learning involved or strategy . . . not just mindless shoot 'em games (I'm sure you could argue they have some value . . . okay, but I am saying I want to get a game that is going to get their brains thinking and figuring stuff out). What a better way to disguise learning than in a game app.
I like games that are kid-friendly. And by kid-friendly I mean: NO ads they could click on, NO buttons that take them out of the game so you have help them get back in, NO way to buy stuff without you knowing, and NO adult ideas or images. I don't want to give my Baby Girl the apps meant for teens (even the dress up apps) when there are PLENTY of apps for her age. And I don't want my Little Son playing violent games.
Does it have good ratings? Does it have long-term value? Are there a variety of levels or things to do in the app? I look at the ratings and then I also look them up online and see if I can find more info or even a You Tube video about it.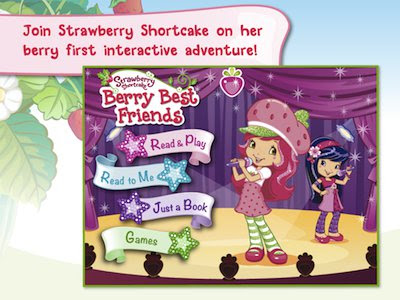 I found a really fun game that I love by
Cupcake Digital
. It's called
Strawberry Shortcake Best Friends
app. It's a great example of an app that is entertaining AND educational. Baby Girl loves this app! It's has a story that is an interactive book. They can read themselves or be read to.
Then it also has FOUR fun girly games along with that!
There's decorating fingernails, styling the hair and clothes of Strawberry Shortcake and her friends, Berry Blitz fruit popping game, and painting with art supplies and stickers. All very age appropriate. Plus, it's only $2.99.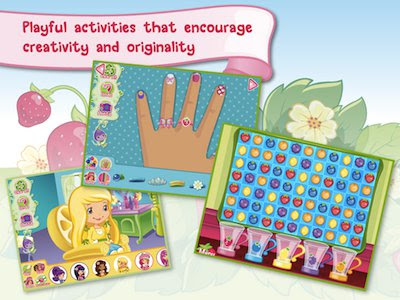 Cupcake Digital is letting me GIVEAWAY this Strawberry Shortcake app for FREE to 3 lucky winners!!!!
All you have to do is enter! This will run all this week and end on Saturday, July 27th!!!
ALSO, here's a list of some of my favorite apps for kids . . . (no, I did not get compensation for this list.) This is my honest opinion of some awesome apps! I'll add more as I go.
My PlayHome (a digital playhouse)
Toca Boca Apps (we have most of them and LOVE them ALL)
Where's My Water? (fun strategy and thinking game with a good story and many levels)
Mittens (a Disney app with great graphics and fun strategy)
Cupcakes! (mix, bake, and decorate cupcakes without ads or junk)
Monkey Preschool (engaging, easy to use, very cute)
Rocket Math (challenging and you get to build cool rockets)
Stack the States (fun way for older kids to learn the states)
This is NOT a sponsored post. I did not receive any compensation for doing this post. Just good info and free stuff for you. Enjoy.