Mother's Day is coming. I've thought about being a mom a lot. As I am sure many of you have. I look at my stretch marks, my extra bills, my yet-to-be-created masterpiece that I have swirling in my brain, and realize I have given up much to be a mother.
BUT then I look again, with different eyes, and remember I have gained so much too. . . .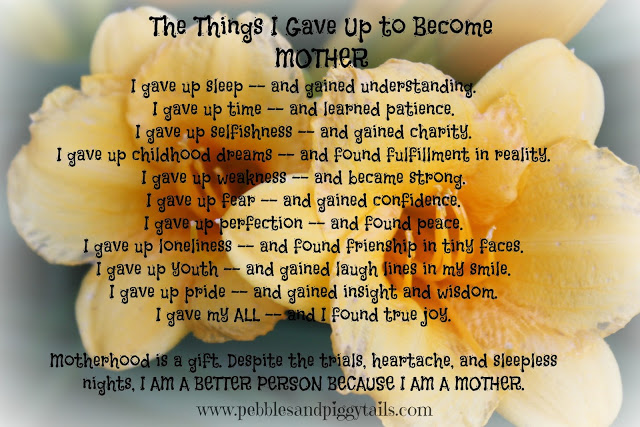 The Things I Gave Up to Become a Mother
By Lisa at www.pebblesandpiggytails.com


I gave up sleep — and gained understanding.


I gave up time — and learned patience.


I gave up selfishness — and gained charity.


I gave up childhood dreams — and found fulfillment in reality.


I gave up weakness — and became strong.


I gave up fear — and found confidence.


I gave up perfection — and found peace.


I gave up loneliness–and found friendship in tiny faces.


I gave up youth — and gained laugh lines in my smile.


I gave up pride — and gained insight and wisdom.


I gave my ALL — and I found true joy.


So for this Mother's Day remember that Motherhood is a Gift. Despite the trials, heartache, and sleepless nights, I am a better person because I am a mother.


What have you given up? What have you gained?
HAPPY MOTHER'S DAY!!!!