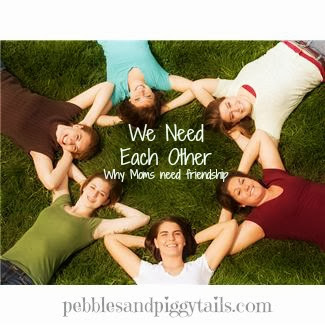 Let me tell you why we need each other through this little story:
My Park Days Story


Before I moved to the West this past summer, I had lived in the South for 10 years. I lived in the land of humidity, southern accents, hills carpeted with trees, grits, and people sweet as honey.
One day, when Sweet Tween was in Kindergarten, I decided to take her and Little Son to the nearby park after school. The park was empty. We played anyway. The next day I tried again. The park was empty again. So the next time I went, I invited a friend and her children to join us. And she invited a friend, and that person invited a friend, and so on.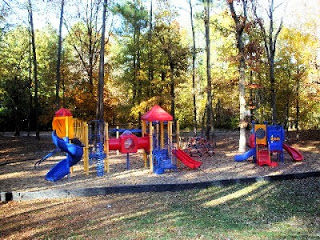 Soon that park was filled everyday with the chatting voices of women and the happy squeals of our children.
We became a strong circle of park day women. We met almost everyday. You could always count on at least 2 or 3 of us being there. There usually was:
Alison–She was always helping, could cook like Paula Deen, told great stories, and was stylish in every way.
Elsie–Her kind heart, down-to-earth attitude, and loving giggle were always infectious.
Emily–She could create anything she put her mind to, and she had a way of making recycling and computers look fun. She was fun to laugh with.
Kim–She was always calm, always steady, and always dependable. She had the ability to listen and to always have enough band-aids for all the children with scraped knees.
Amelia–The aspiring book author, who could describe anything in great detail and make words sound like magic.
Jenn–She always made us laugh and brought chocolate for support. She reminded us not be afraid to try new things–like chia seeds.
Lisa (Me)–I laughed, listened, and learned. I was uplifted each time I went to the park.
And there were many others. Through the years (at least 5 for me), we would gain new park friends. Some were there often. Some came for just one day. Even Mr. Security Guard at the park would join us sometimes. And we lost friends too–including myself when I moved away. Leaving them was one of the hardest things I've ever done.
All were welcome. It didn't matter what faith or lifestyle. We were all different, yet similar in our needs for friendship, support, and the desire for good conversation and laughs. That's what made it magical.
And we supported each other. When I got in my accident, I knew who would be there to help me–my park day friends. We helped each other through difficult pregnancies, kids with special needs, family struggles, job disappointments, and just plain hard days. We battled our own loneliness by being a listening ear. And so it went on each day.
We need each other. Women need each other. Instead of comparing ourselves and focusing on our differences we should find the good in each other. We are sometimes afraid to really know each other. We are afraid to find out what's really going on in lives of our friends. We fear it may burden us somehow. Sometimes we are afraid to be true friends. I am guilty of this.
If you have some true friends, keep them. If you need a true friend, be one.
We need to help each other. We need to respect each other. We need to laugh together. And together, we can solve the world's problems one park day at a time.