Really quick, I am so excited to be FEATURED this week at the CLEVER CHICKS BLOG HOP! What a surprise for me! Thanks so much to The Chicken Chick for featuring my Little House on the Prairie Party. Check it out if you can!


I've been in the mood for Spring and flowers–especially since it's still cold and snowed 3 times last week in my area (AND therefore has done a number on my garden, but more about that later . . . ).
So I needed something SPRINGY. I came up with this Pretty Dang Easy Door Hang (ain't that a mouthful!):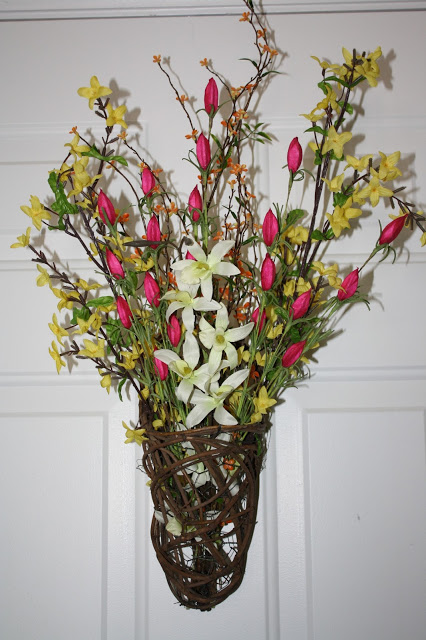 Truthfully though, I saw something similar on another person's door. I'm not super crafty in real life. I thought, "How hard could it be to stuff some fake flowers into a little hanging-basket-thingy?"
So I headed to Hobby Lobby. Their flowers were 50% off (yay!) and the basket thingy was only $4.99 and I used my 40% off coupon for it.
Then it is simple:
1) Arrange flowers and poke through the holes in the basket-thingy.
2) Clip the stems if they are too long with wire-cutters. Secure stems with some wire if needed.
3) You're done! It took me 5 mins. That's my kind of craft!
Pretty easy, eh?