We are pancake-a-holics around here! Since we love 'em so much we decided to make them healthy using whole wheat. They are the BEST. My Man is actually the one who makes them the most. He took a family recipe and made it into his own. He'll make a huge batch at once and then we freeze them for quick and easy breakfasts. And there's no oil, so they are low fat and full of fiber. I've also got our Fresh Strawberry Syrup recipe for you that you can make in 5 minutes to go with these pancakes. It's a family tradition at our house.
And don't forget to check out how we freeze these pancakes for busy school mornings!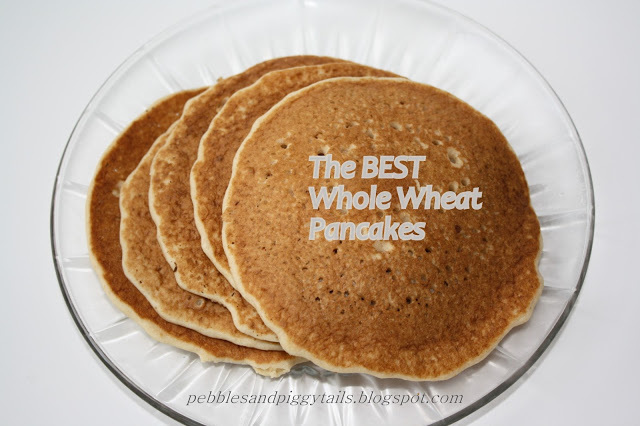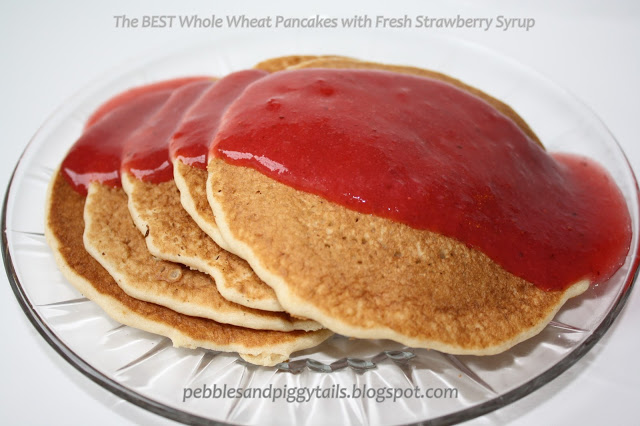 They go perfectly with Fresh Strawberry Syrup passed down from Great-Grandma herself. She taught me how to make it when I was a newlywed, and I've made it every year since. Here's the recipes for you. Hope it makes your morning meals simple and healthy!
We actually grind our own wheat into flour and save TONS of money that way. We use the Kitchen Mill from Blendtec. We've used ours for 16 years and it's still going strong!!
The Best Whole Wheat Pancakes


Mix together:
1 1/2 cups whole wheat flour
1 1/2 tsp of baking powder
1/4 tsp salt
1 TB brown sugar
3 large eggs
1 1/2 cups skim milk
Bake on hot griddle, turning over when the bubbles appear on the top.
Makes about 10-12 pancakes. We usually triple or even quadruple the recipe and freeze the extras for later in large Ziploc bags. They are easy to microwave for breakfast the next day. These would go great with Homemade Butter.
Click 'next' for our
*This post may or may not contain affiliate links and they help support this blog. All recipes and opinions are my own.
You may also like: