The first time we checked out these books by Amy Krouse Rosenthal, we all just giggled and giggled. The first one we got was Little Pea. It's about the Little Pea (an actual green pea) who has such a loving mom and dad, except for one thing . . . they always make him eat his CANDY! It's hilarious because all he really wants is yummy veggies.
Next we got Little Oink. Poor Little Oink is a pig who loves to be clean, but because he's a pig his parents want him to be messy. He can't go out and play until he MESSES up his room! Your kidlets will die at how opposite it is to their life.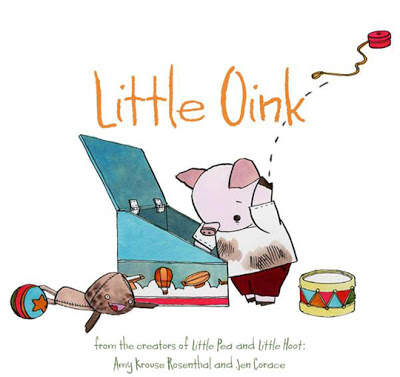 And then the lastly we finally got Little Hoot. It follows the same cute humor with Little Hoot the owl who does not want to stay up late. All he wants to do is GO TO BED! His parents make him stay up, like all good little owls do.
Very hilarious stuff. I promise you'll laugh with your kidlets and enjoy the darling illustrations as well. These books are simple and sweet. Probably best for children 5 and up (because they gotta be able to understand why a pea wanting to eat candy is funny).
Hope you like 'em as much as we did.