I'm sharing one of my all-time favorite recipes. Perfect Homemade Alfredo Sauce. It's sooo NOT heart-healthy for you–which is why we can't get enough of it! (Life is unfair) But it's a creamy, homemade, comforting-in-every-way Alfredo Sauce that I promise you will need someday to make your day . . . so here it is: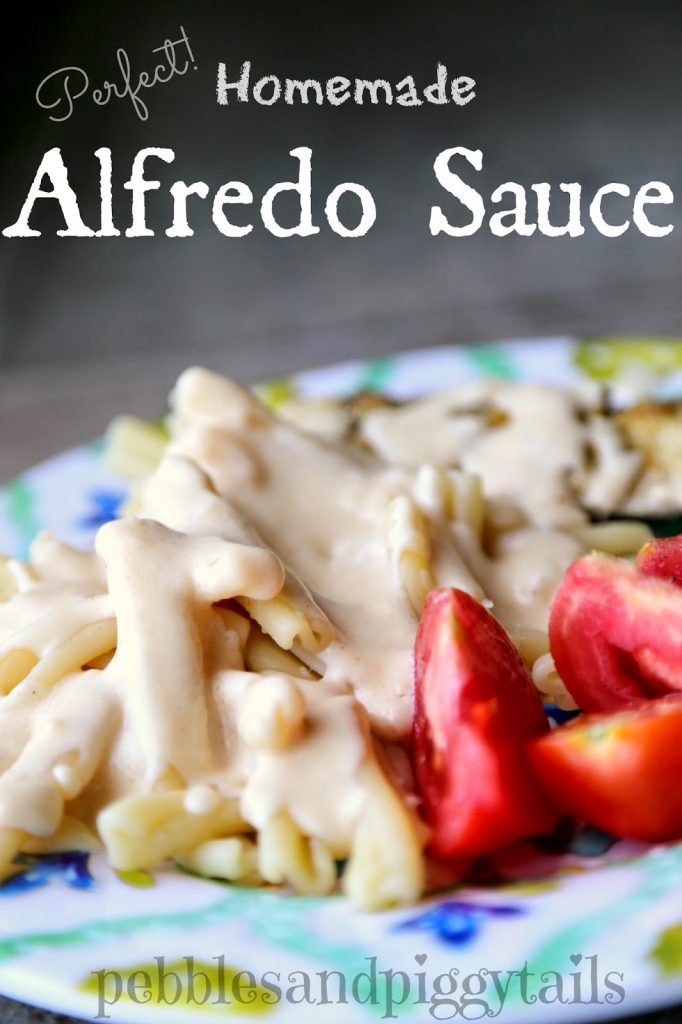 This homemade Alfredo Sauce has changed my life!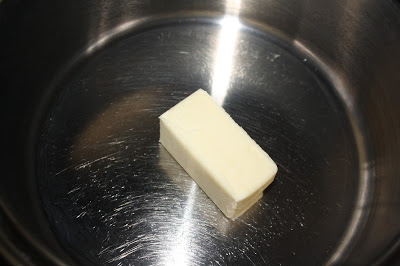 Melt a cube of butter in pot.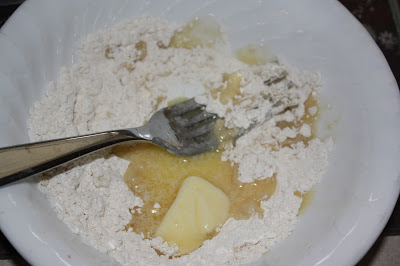 Take out some of the melted butter and put in small bowl with 3 TB of flour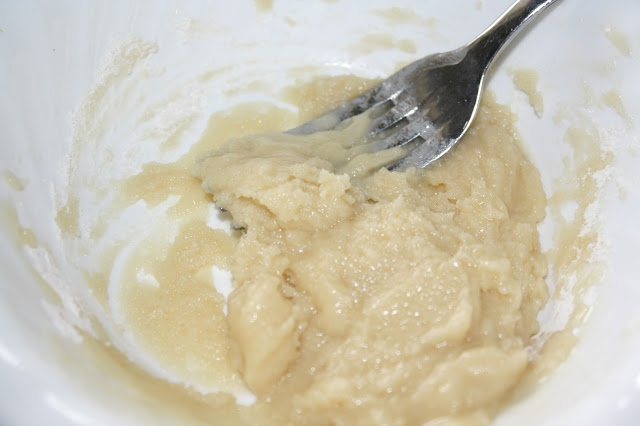 Mix to make a buttery flour paste. THIS WILL ENSURE YOU DON'T GET FLOUR CLUMPS IN YOUR SAUCE.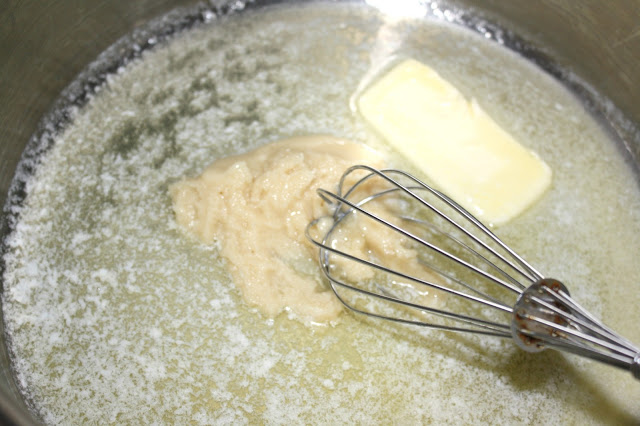 Whisk the butter paste into the rest of your melted butter over low heat until blended.
Add whipping cream (1 cup) and milk (1 1/2 cups)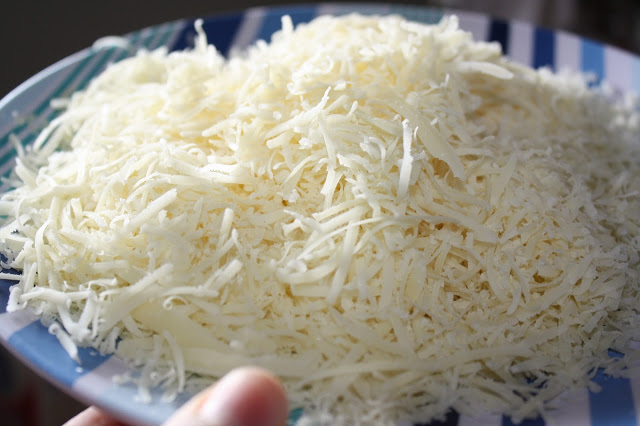 Add 3/4 cup each of freshly grated Parmesan cheese (NOT the stuff in the green bottle) and mozzarella cheese.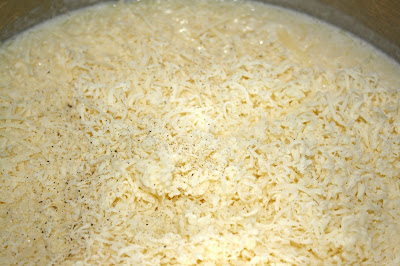 Also add 2 minced garlic cloves and salt and pepper to taste.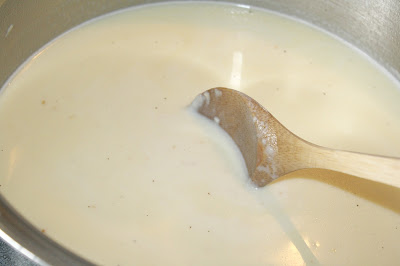 Stir constantly as you simmer over low to med heat until the sauce thickens.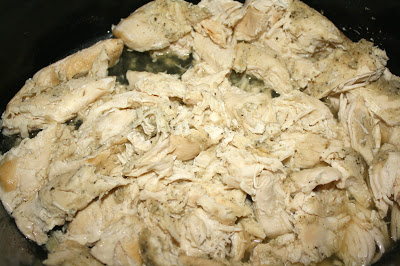 I put chicken tenderloins in the slow cooker with garlic seasoning on it and let it cook all day. Then when the chicken is tender and cooked, I roughly cut it into chunks to put with the sauce.
And you're done! Easy, cheesy and DIVINE.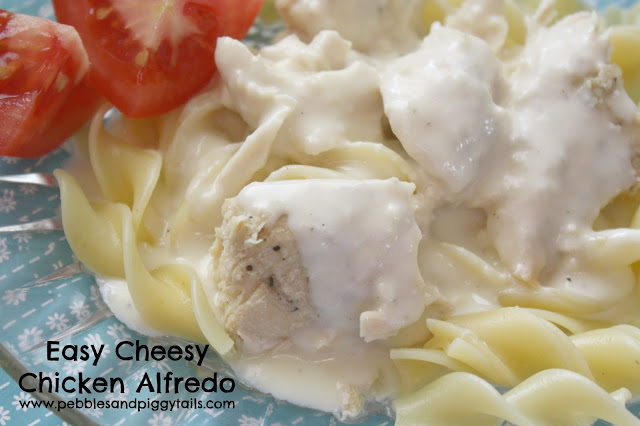 Easy Cheesy Chicken Alfredo Sauce
1 cube of butter (yup, the whole cube)
3 TB flour
1 cup of whipping cream (the heavier, the better)
1 1/2 cups milk (I actually use skim–not that it helps much, but any will do)
3/4 cup fresh Parmesan cheese, grated
3/4 cup mozzarella cheese, grated
2 cloves of minced garlic (we love garlic and add a little extra)
salt and pepper to taste
Whisk butter and flour in a pan over low until blended Add all remaining ingredients, stirring constantly. Simmer over low to med heat until sauce thickens (at least 20 mins). And never stop stirring . . . 'til your desired thickness is reached.
Pour sauce over:
1-2 lbs of boneless chicken breasts, cooked and seasoned to your taste (I put mine in the slow cooker with some garlic seasonings).
AND/OR
Pasta of your choice
(Also great on pizza or with garlic bread!)

LOWER FAT VERSION:
I have tried to lower the fat on this before. You can do this by using Half n' Half or canned evaporated milk instead of the whipping cream. Use skim milk, low-fat mozzarella, and just less cheese in general. It helps a little. 🙂


Enjoy!!



Get this recipe, plus 29 more of our top recipes in our newest cookbook download!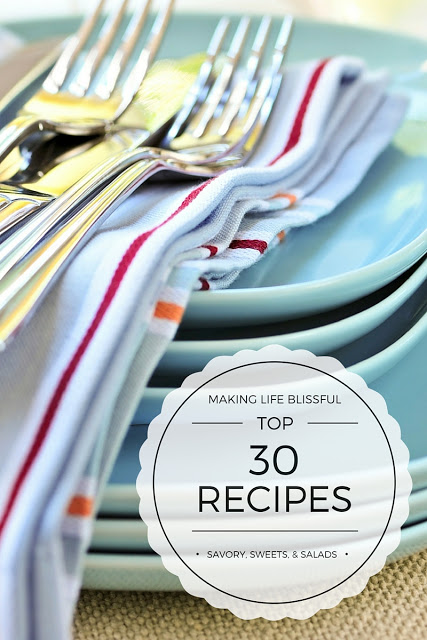 EBOOK: TOP 30 RECIPES from Making Life Blissful