The Day The Babies Crawled Away Book Review
I LOVE children's books. I started collecting them before I even had a child in the womb. If I had more $ I would collect even more. This book is one of the best! I wish I owned it, and plan on owning it someday soon.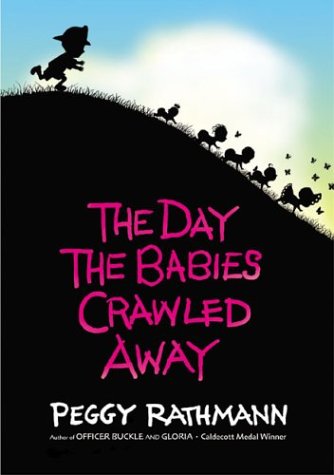 All 3 of my kidlets adore this book. It's by Peggy Rathmann who also wrote the more popular Good Night, Gorilla and Officer Buckle and Gloria.


But I think this is her BEST BOOK! It's full of darling rhyme and flowing rhythm. The pictures are all like the cover–beautiful skies and silhouettes of squeezable babies and the cute little hero who wears a fireman hat. Here's a sample:
Remember the day
The babies crawled away?
We moms and dads were eating pies
The babies saw some butterflies-And
What do you know?
Surprise! Surprise!
The babies crawled away!
The main idea is that all the neighborhood is attending a fair complete with pie-eating contests and such. While the parents are not looking, all the babies suddenly crawl away! No one sees them but one little boy. He follows them and deals with their silly antics as well as their meltdowns. Eventually, he brings them safely home . . . but you'll have to read it to find out how.
So as they say in Reading Rainbow–"Of course, you don't have to take *my* word for it."
(oops, did I just date myself?)