My Big Sis was kind enough to do a guest post and share her most recent crafts with us. My personal favorite is this wreath because you could basically do this in any color for any season: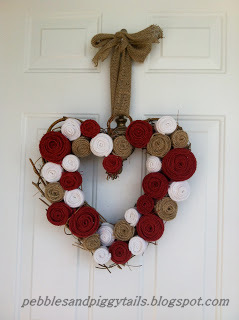 Enough of my thoughts, here's her post:
To me Valentines Day and Halloween are my least favorite holidays….partly because I don't appreciate how much CANDY my kids plow through. ;(
However, my 10 year old daughter and I managed to enjoy getting ready for Valentines Day with a few craft projects like these which were a lot of fun!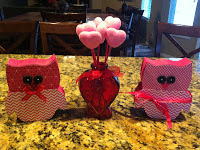 Our most favorite is the LOVE BIRDS (the owls)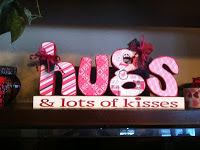 THE HUGS & LOTS OF KISSES supplies came from there too.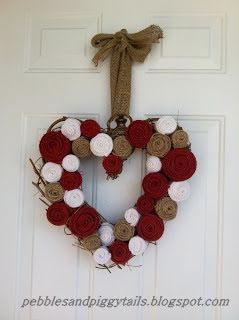 As for the WREATH on my door I just took a grapevine heart shaped wreath that I've had for years and decided to dress it up completely with rolled up burlap ribbon and an old white sweater that was headed for The Goodwill. All turned out cute…….
But, these past years we have decided to make the most exciting part of Valentines Day at dinnertime as a family. We eat a special Valentine dinner and give a toast to the love we have for each other. We go around and each tell one thing we love about each person and give gifts. (I didn't get pictures because some moments in life should never be interrupted with the picture-taking.)
This has been a tradition that has made this holiday a little more bearable! Not to mention of course the "SWEET" rewards of motherhood and wifehood….love notes and chocolate from the kids and Hubby at the end of the day! Who's to say that the kids should get all the candy? Moms deserve a little too!