I help with a girl's youth group in our church every week, and on Wednesday's we do fun activities with them.  This past spring, the girls wanted to do a Color Run. You know, one of those awesome, crazy, runs where people throw chalk at the runners. They were so excited to get all covered in chalk and run together.  Some of the women who lead with me, weren't quite so excited to get dirty. But the Color Run has a place for everyone. The girls could run around and be messy, and the women could throw chalk at them and stay relatively clean. We all had a blast! It's a fun way to be active, and get energy out.  And we made it simple for you, so anyone could do it!
This post may or may not contain affiliate links.
*For my LDS friends, this color run is great opportunity for talking about the Young Women value colors.  See my note at the end of this post for LDS Young Women Leaders.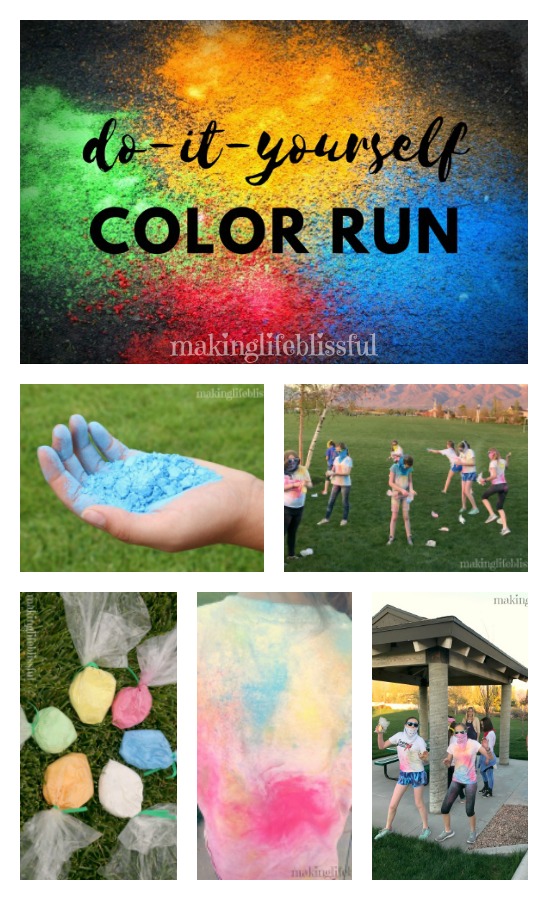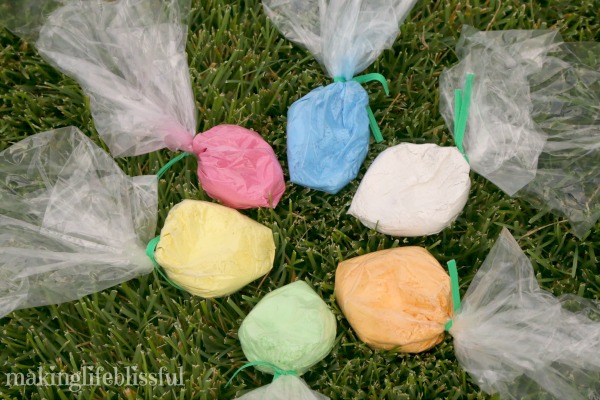 Get a bunch of colorful chalk, and little bags to put it in.  You can order chalk powder online or you can make DIY chalk powder for this color run.  My awesome neighbor actually made all of this chalk powder.  She said she tried several methods from hammering it to running it over with her car.  But in the end, the best way she found was to use an old blender and make the powder that way.
To make your own color run chalk powder:
 Use regular sidewalk chalk.  We used a lot.  You will need to gather a lot of each color.  You can even just use the old little bits that don't get used in your child's own set.  I would say it depends on the size of your group but we had about 15 runners and needed about 2-3 cups of chalk powder per color to throw while they ran.  And then we wanted the runners to each have some at the end, so each runner had about a cup and a half to throw around.  A little bit of chalk powder does go a long way but it's better to have more than enough.
 Break chalk into small pieces using a hammer so it's more manageable for the blender.
 To make a fine powder, blend the broken pieces in a OLD blender.  Make sure it's an old blender since it may be kind of hard on it.  Blender the pieces one color at a time to make it easier.
 Divide the blended chalk powder into baggies (about a 1/3 cup per baggie) and tie it off.  The baggies allow for more people to be able to throw the chalk so you can divide them up among a large group.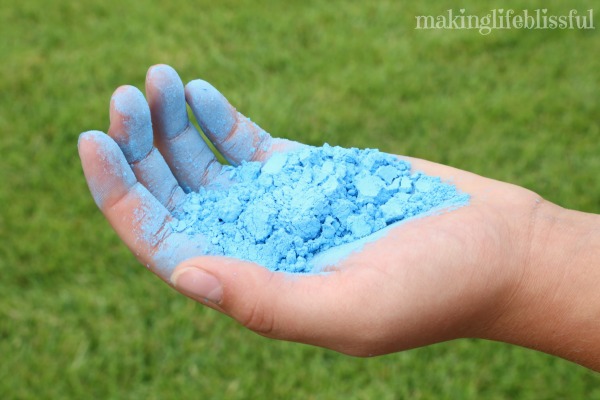 The chalk needs to be finely crushed into a powder.  It may be helpful to sift the chalk powder and take out any large chunks.  Ours was pretty fine and stuck together a little as you can see here because it was so fine.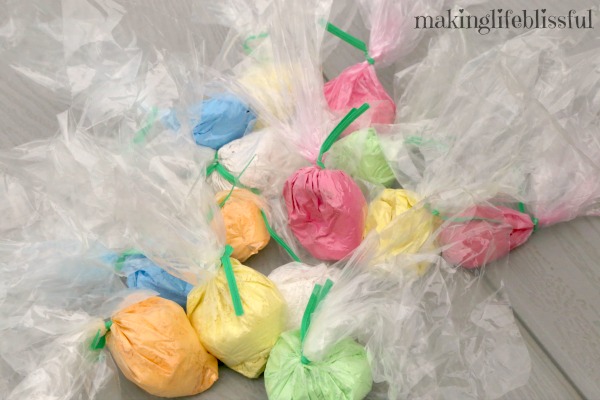 You will want a lot of chalk. We put it all in the small bags so that they would be separate and easy to throw and hold.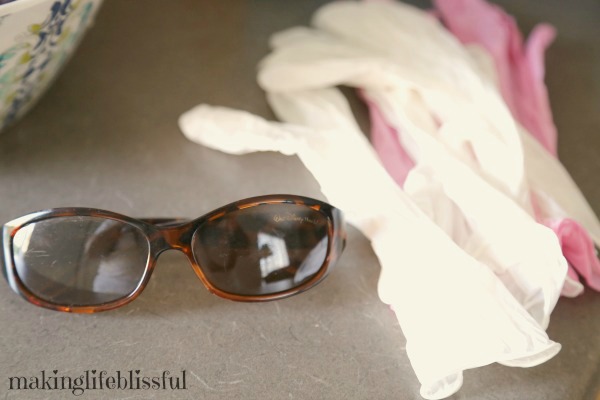 You'll want to be properly covered. Have participants wear sunglasses for safety, and you may want to bring some plastic gloves for the people throwing the chalk.  Also have the participants wear old white or black t-shirts because the chalk colors show up so much better.  Also a bandanna is helpful to cover hair or mouths.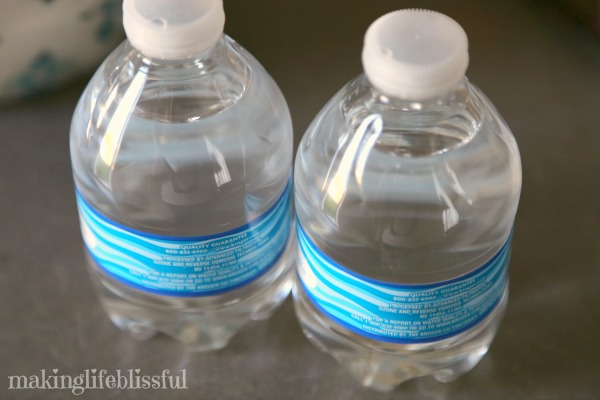 You'll also want some water (we used these cute mini water bottles) for the runners at the end.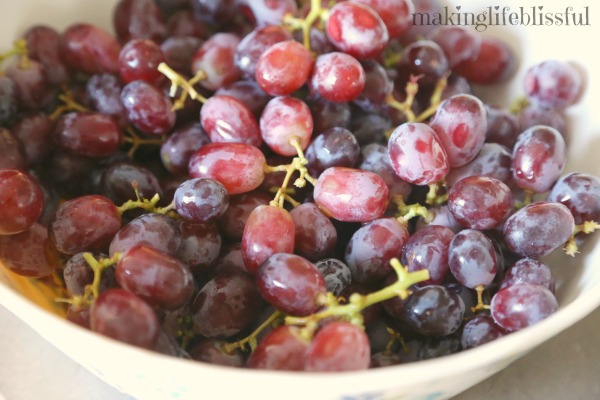 And of course, you will want some healthy treats for the end of the race!  For my LDS friends, we used the grapes as the purple value color since we couldn't find purple chalk.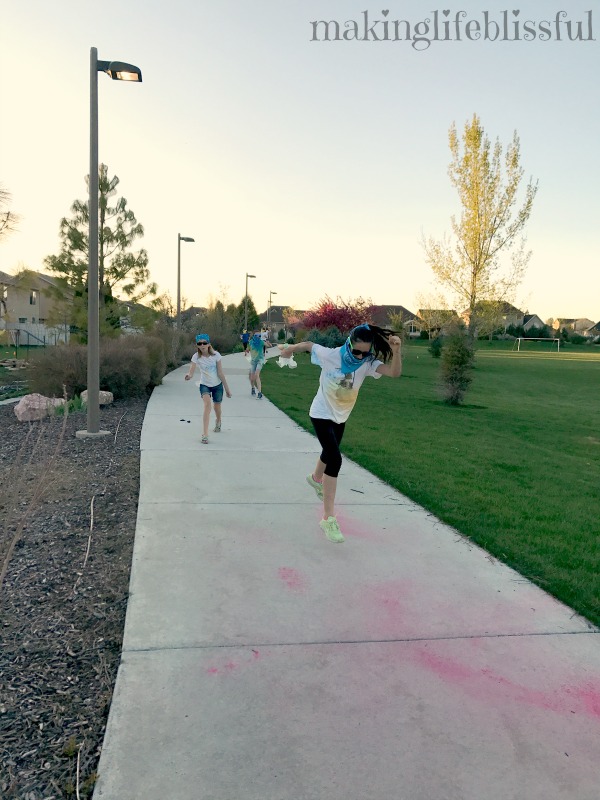 Designate the area for the runners to go.  Just to make it simple, we used a nearby park, and had our girls run two laps around it which is about a mile.  As the runner go around the race route, have chalk throwers along the route to throw chalk at them as they run.  That way they get some color on the way.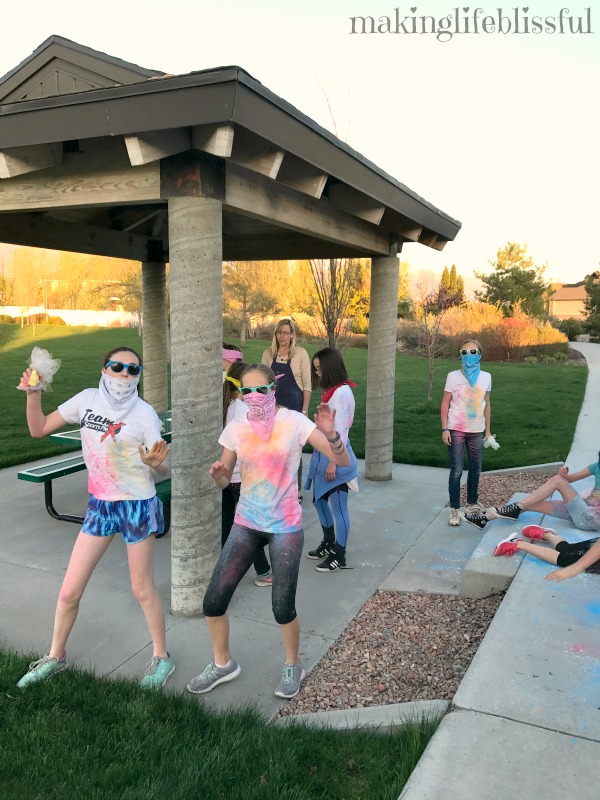 Have some chalk powder in baggies for the runners to throw around at the end.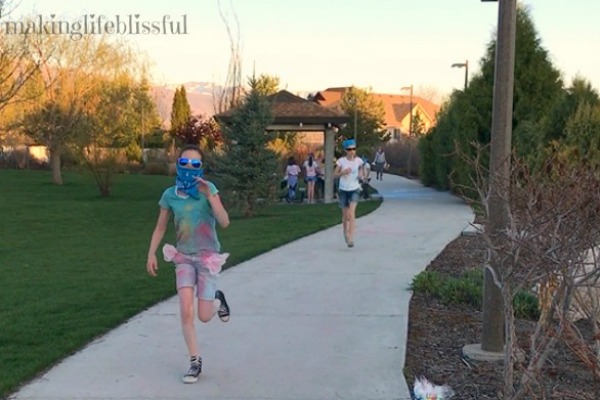 The runners should be covered in chalk by the end of the race! It's totally fabulous, our girls loved their new look.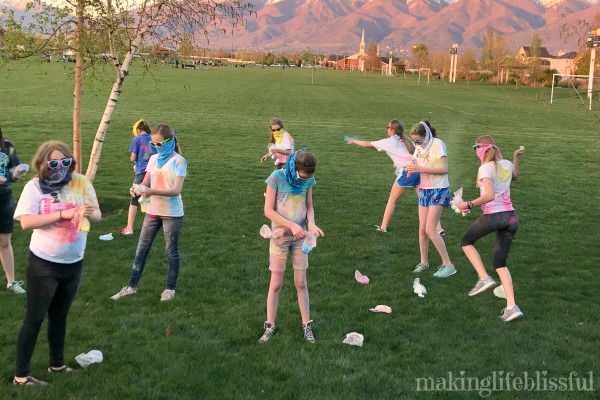 In our activity, it ended up being a huge free-for-all chalk fight at the end.  It was super fun and the girls were in heaven.  And luckily for us, it rained that evening, making the chalk clean up super easy.
For LDS Young Women Groups:
Make it a YW Value Color Run by having checkpoints along the way for each value color and emphasizing the importance of the YW Values.
First we met for a few minutes and had a simple, spiritual thought about why the YW Values are important and should be a "part of you".
Then we had the girls run around a large park two times (which was close to a mile).  We had a station for each color along the route and a water station too.  The first time around, we had the girls run to each station and then stop at each one to talk for a minute about that value.  We simply went over what each value was about (as found in the YW Personal Progress book) and then the girls would receive their own little bag of chalk powder for that color to use after the race.
 They gathered chalk powder for each color at each station and then at the end they each had a bunch of colors to throw around at each other.  We did have to make strong rule to not throw at faces.
 On the second time around the park, they simply just ran and as they passed each station, the leaders would throw chalk powder as they passed so they got messy along the route.
 At the end of the race, we all gathered for a big color fight on the grass — again the rule about NO FACES.  This was hilarious and the girls had a blast!

[soliloquy id="5000″]