I want you to STOP for a minute. Yes, just stop. For 1 minute I want you to think about what makes your life meaningful. What makes your life worth living? And then think about what it would be like without those meaningful things.
Go ahead. Stop and think for a minute. I'll wait . . .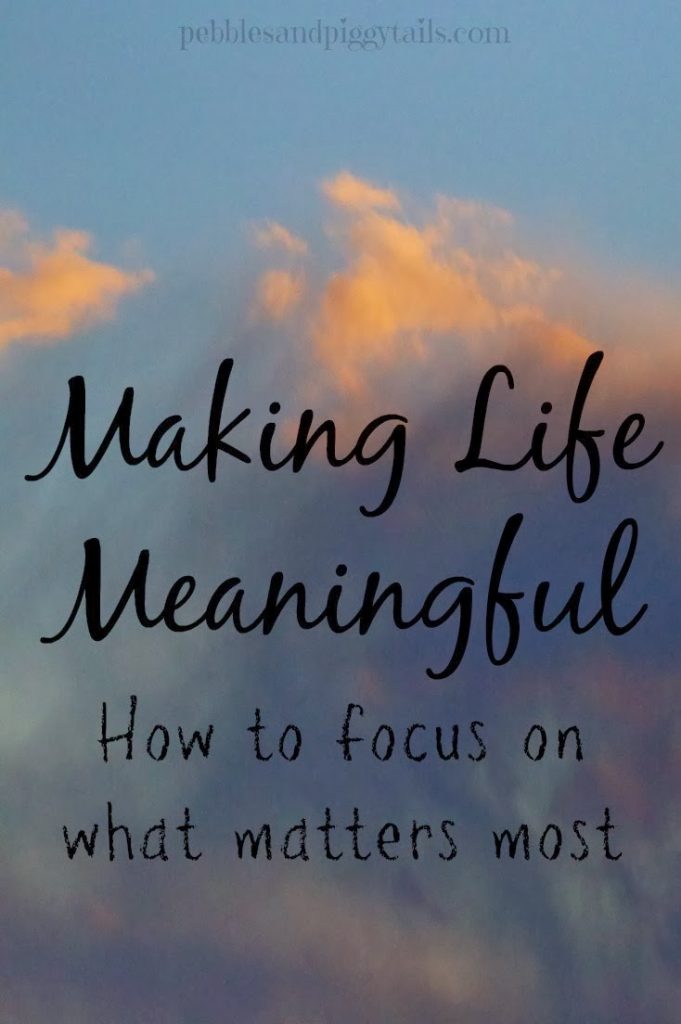 I'm guessing most of you thought about your loved ones. Your spouse, your kids, maybe your other blessings, your religion. It's sad when we think about LIFE without those precious people or things.
I believe that LIFE is meant to be MEANINGFUL. We are supposed to live a life of purpose. We aren't just here to eat, sleep, and then die. We are supposed to have big dreams, cherish small moments, and create special relationships with others. We are here to learn. We are here to teach. We are here to care.
So if LIFE is supposed to be MEANINGFUL, why do we waste so much time on the things that don't matter?



It's funny how we can so easily forget what matters most so quickly–even though it is SO IMPORTANT to us! We get distracted by the mundane and the frivolous.
Seven years ago, on March 6, 2007, I was walking on the sidewalk on a bridge that went over a cement canal ditch. I had Little Son with me. He was 3 years old. I was holding his hand. We talked about the butterfly we saw flying by. And then suddenly, an intoxicated driver in a van drove up behind me onto the sidewalk. He hit me in my back. The back of my head cracked his windshield. I somehow let go of Little Son's hand as this happened as the force sent me flying over the railing down into the cement ditch below. I fell 10 feet down into the ditch. I was 6 1/2 months pregnant at the time.
I was knocked unconscious, so somehow I relaxed enough that I didn't break anything. But the pain I felt all over my pregnant body was profound. Knees, back, head, forehead, hands, neck, tongue, feet, etc. I was wakened from my unconsciousness by a man who witnessed the accident. I could hear Little Son crying his heart out up above me. Upon realizing what had happened, my first thought went to my crying little boy and my baby girl growing inside me. I prayed harder in that moment than ever before. I prayed for my tiny baby over and over in my mind. Please Heavenly Father, let her live. Somehow I had lived. Somehow Little Son had lived. It had been a miracle. Now I hoped that Baby Girl would live.
Baby Girl did live. She's a beautiful, healthy girl. Another miracle.
I am forever thankful. I know that God is gracious.
In the months that followed as I recovered from this accident, I had a lot of time to think about LIFE. I realized how close I had come to dying. I also realized how beautiful it was to be LIVING. The littlest thing brought me joy. Not the frivolous things–but the important, meaningful things: My Man holding my hand as we watched old TV shows, Sweet Tween's happy giggle, Little Son's big brown eyes, and Baby Girl's tiny sigh in my ear as I cuddled her.
I learned in a very profound way that some things really matter ALL OF THE TIME, and . . . that other things really DON'T matter AT ALL. Ever.



I promised myself then that I would try to make my life meaningful . . . for as long as I was given the chance to do so.
Making life meaningful is hard. I still struggle and get caught up in the frivolous. I still have to do the mundane. But my goal is to make sure that at least one thing in my day is focused on what matters most to me. Sometimes, that one thing only gets 4 minutes of my day . . . but it counts. And surprisingly, many times I find I can make most of my days very meaningful.



So if you've made it this far through this post, I hope you've been able to think of a way to make your life more meaningful. Spend at least 4 minutes on something OR someone that matters the most to you. Cherish those 4 minutes (or more). It's amazing–you'll see how 4 minutes a day can change your life.