Parents! Listen up! This is so important! Today I am reviewing
QUSTODIO
,
an internet safety software for kids
.
It can be used on all your computers, cell phones, and devices. It helps you control apps, time usage, social media, and helps parents know where their child has been on the internet.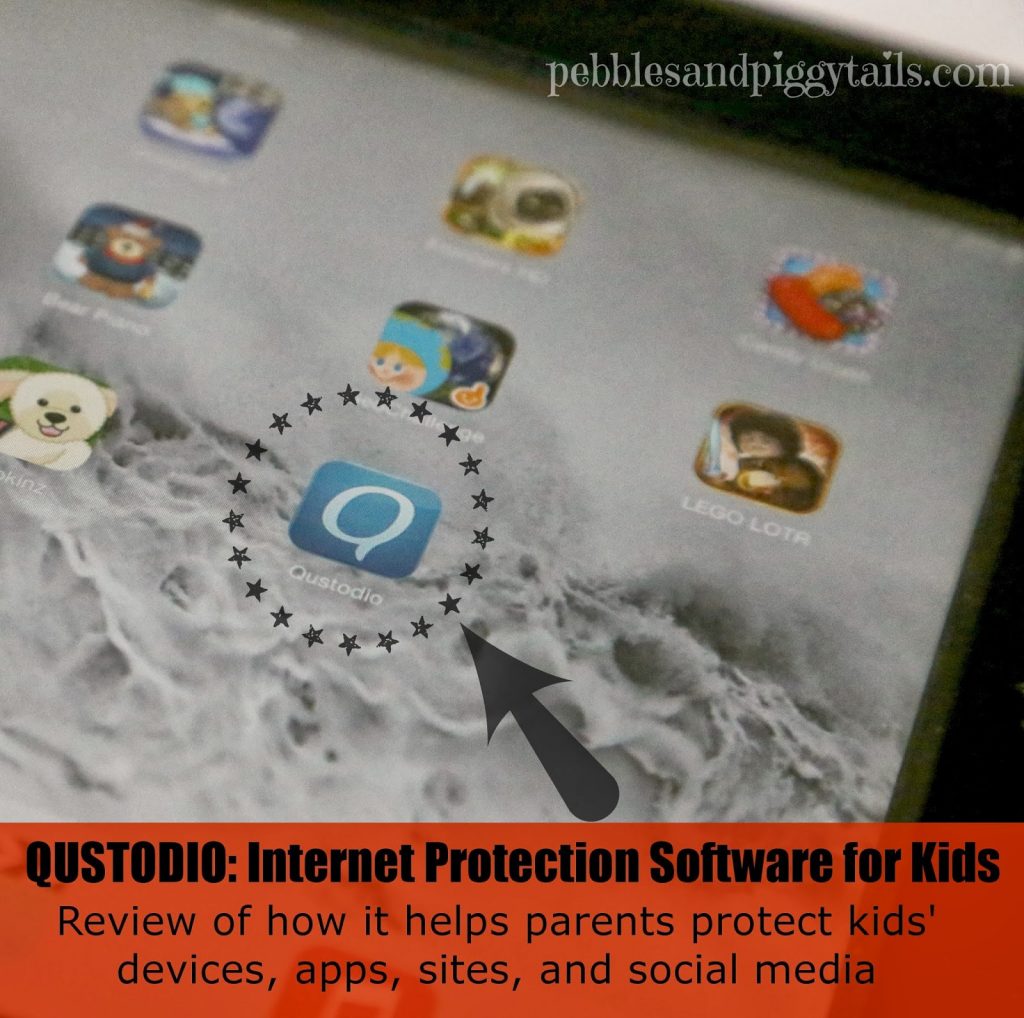 Things I LOVE about it:
* It protects more than just your computer. Qustodio is an internet search engine that you download onto your computer AND mobile devices. There's an app for iPhones. But it does more–it TRACKS what your children are looking at on the internet (and even how much time).
* It's versatile. You can have it follow more than one child on many devices. There is a Family Portal where you can change the settings for each child based on their needs. You can also set what they are allowed to search for on the internet.
*
It's FREE.
You can try it out for FREE
. The free version only allows you to have 2 children and 2 devices. You have to upgrade to the Premium Plan to get more devices and users (up to 50 users and devices if needed!). But I love that you can try it out first! The Qustodio company let me upgrade to a Premium Plan in order to do this review. I LOVE the upgrade. With the upgrade you can even control your child's
TIME USAGE
on their devices and I get to have protection on every single device we have.
(AND the nice people at Qustodio are giving my readers 20% off the Premium Plan if they use PEBBLES20 at checkout!)
*It tracks social media. I have a tween, soon-to-be-teen. Social media is just around the corner for us and I want to be able to follow what she is doing. This program monitors Facebook and Twitter.
*It alerts me and keeps me in the loop. This program emails me daily or weekly (you decide) AND it alerts me if there is any questionable activity or new contacts made online.
Things I don't LOVE:
*It takes a little bit of tinkering to figure it all out at first. This is not a huge problem. It's not hard, but it's just like any new program out there–you gotta set it up for each device. The parents can't just download and go. You gotta work with it a little to figure it out and design it to work for your needs. BUT–I have to say Qustodio has an awesome help system. You can ask them a specific question and they will get back with you ASAP. Plus, I got it all down within a day or two of trying out all our devices and computers.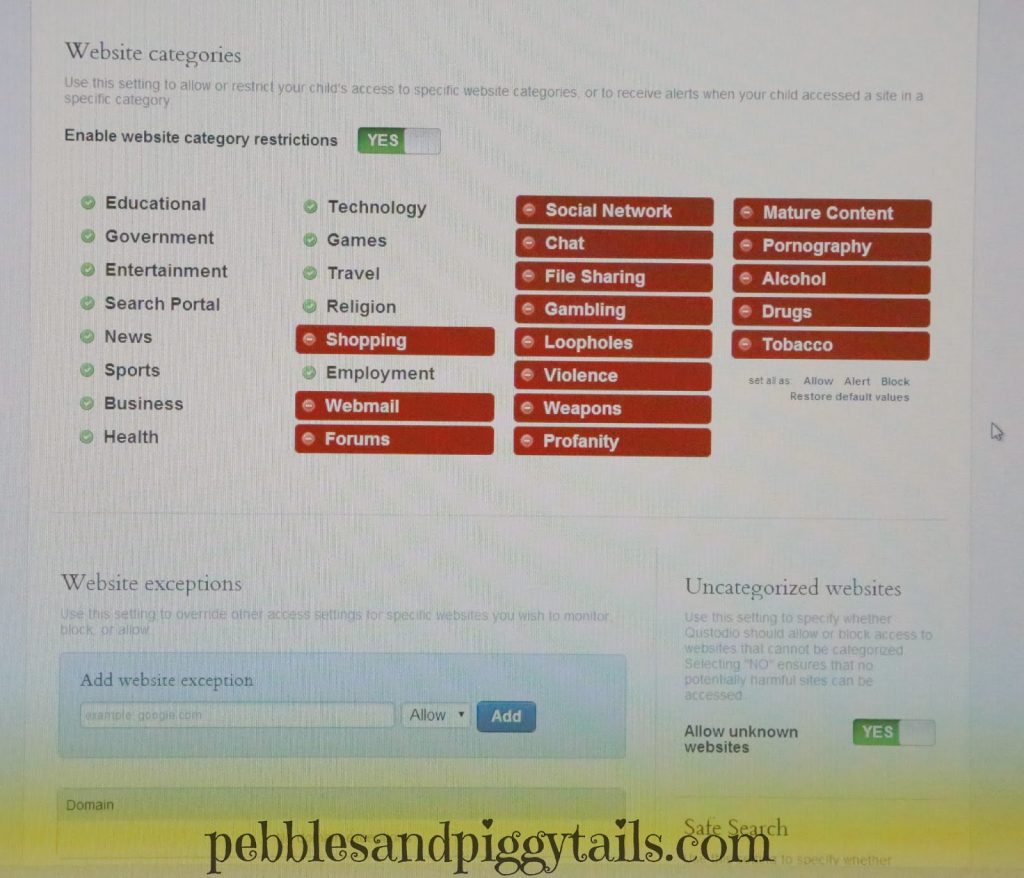 Here is where you can control what they can/cannot search for on the internet. If you disable other search engines (like Safari) then Qustodio becomes their place to explore the internet. You can turn off certain subjects completely OR you can just monitor how much and what they are searching for on each subject. When you download it, the two far-right columns are blocked automatically, so you need to adjust for the other ones.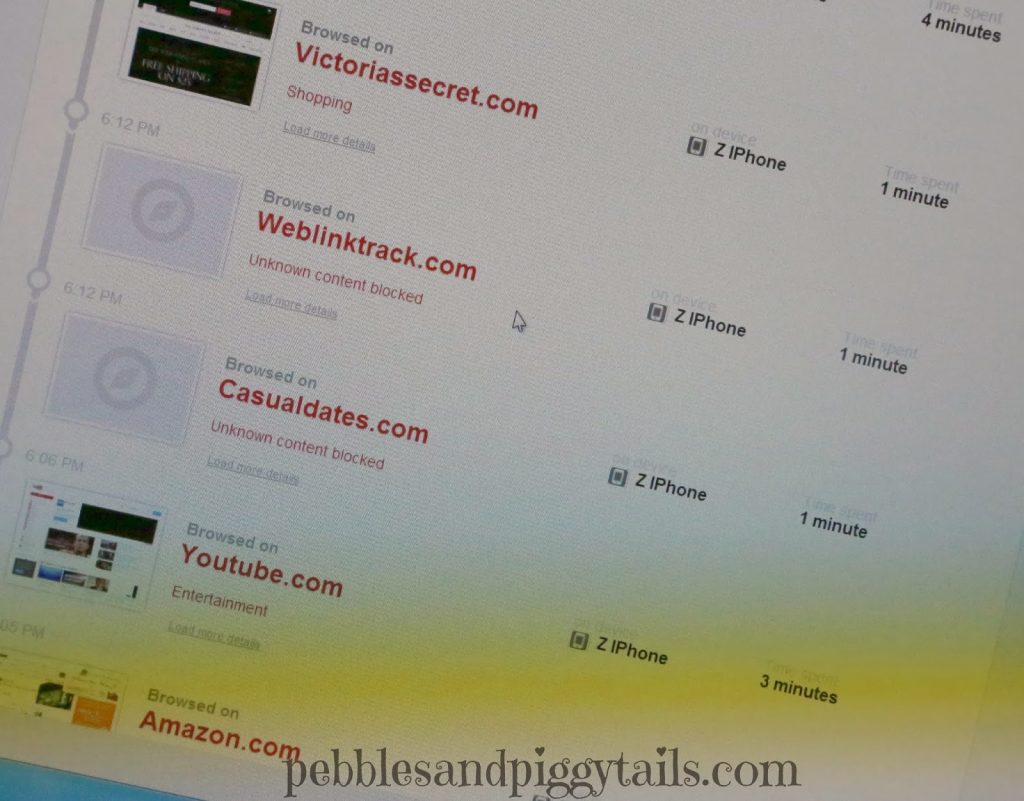 This is a basic idea of the one of the reports they give you. This is based on their basic settings. It shows how long, what device, and what site. I thought their basic internet settings were NOT strict enough. Upon immediate download, I could still search on Youtube, underwear sites, and shopping. Nudity and dating sites were blocked (thank heavens!). So all I had to do was go in (like the first picture above) and put stricter controls on.
There is also a page to control their social media usage and also the time usage. It helps you and your child set limits on your internet use and allows for family time and other activities. You hold the key to keeping your family balanced and safe. I love that it lets kids enjoy the internet without having to find/view inappropriate things. It let's children be children.
My overall impression is that EVERY PARENT SHOULD TRY THIS! (They are not telling me to say this). I think if you do not already have some kind of safety program in place, this is worth a try. See if you like it.
It's time to safeguard our kids on the internet. The internet is not going away. So just like we teach our kids to wear a helmet when riding a bike, we need to teach internet safety–NOW.
Qustodio
is a great tool to help your family safely enjoy the world wide web.
For more info on kids and internet safety visit: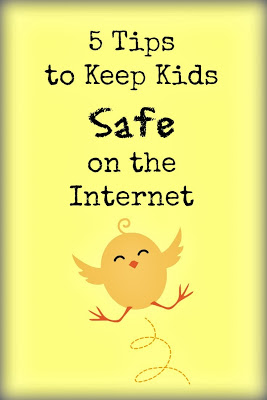 amzn_assoc_ad_type = "product_link";
amzn_assoc_tracking_id = "pebblandpiggy-20";
amzn_assoc_marketplace = "amazon";
amzn_assoc_region = "US";
amzn_assoc_placement = "B0009LS9Y4";
amzn_assoc_asins = "B0009LS9Y4";
amzn_assoc_show_border = true;
amzn_assoc_link_opens_in_new_window = true;
The opinions and ideas expressed in this post are completely my own. Qustodio compensated me only for my time in reviewing their product. They are also awesome about giving my readers 20% off, so use it!
amzn_assoc_ad_type = "product_link";
amzn_assoc_tracking_id = "pebblandpiggy-20";
amzn_assoc_marketplace = "amazon";
amzn_assoc_region = "US";
amzn_assoc_placement = "B0009LS9Y4";
amzn_assoc_asins = "B0009LS9Y4";
amzn_assoc_show_border = true;
amzn_assoc_link_opens_in_new_window = true;
amzn_assoc_ad_type = "product_link";
amzn_assoc_tracking_id = "pebblandpiggy-20";
amzn_assoc_marketplace = "amazon";
amzn_assoc_region = "US";
amzn_assoc_placement = "B0009LS9Y4";
amzn_assoc_asins = "B0009LS9Y4";
amzn_assoc_show_border = true;
amzn_assoc_link_opens_in_new_window = true;